Places to visit around Stockholm
While you are visiting Sweden and your vacation starts in Stockholm it is a good idea to get to know the region by visiting places recognized by either it's natural beauty or historical interest. Rent a motorhome in Stockholm and drive east to Mälaren, the 4th largest lake in Sweden, you could learn the importance of the lake with it's historical markets. In the other direction you will find the world's 3rd largest archipelago counted in number of islands. The archipelago is unique with a mix of water, islands, nature and fantastic vacation/weekend houses with sea view.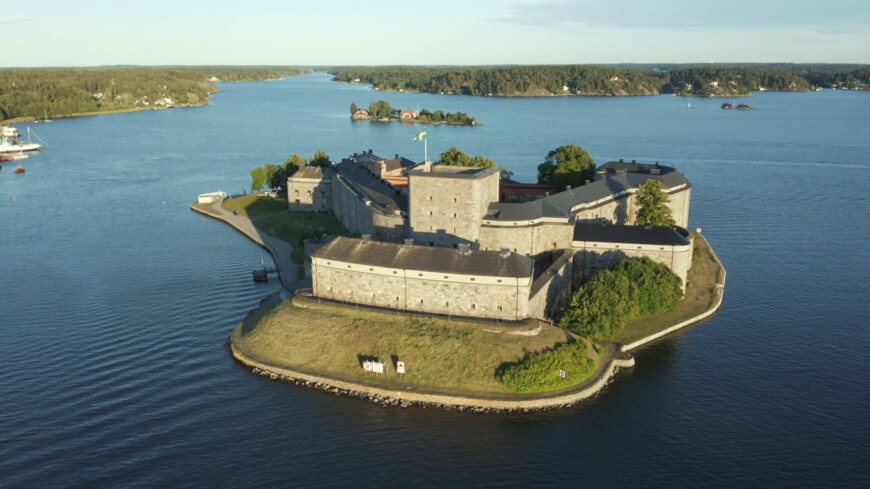 Vaxholm is 45 minutes away from Stockohm and you can take a boat trip or drive your motorhome to get there.


Vaxholm - the fort in Stockholm's archipelago
Vaxholm has a 500-year history that has its beginnings in the national defense of Stockholm. Today Vaxholm is a relaxed archipelago town that offers a large selection of sights to see and things to do near Stockholm.
Take a stroll around town to view the picturesque wooden houses. There are many small shops where you can find ceramics, interior design, art, fashion and unique gift items. Visit art galleries, museums and historical sites and don't miss out on the cafes. It is never too early for a good old fashioned swedish fika (coffee break with delicious pastry).
If you want to experience Vaxholm with your own guide, speak to the Vaxholms Turistbyrå that offers guided city walks.
The history of the Vaxholm Fortress begins early in the 16th century, with the construction of a blockhouse on Vaxholm. A Danish attack was repelled in 1612, and in 1719 the Russians were prevented from reaching Stockholm. King Gustav Vasa instructed to replace the blockhouse with a stone tower which was finished in 1839. The Fortress still stands and is well worth a visit. It accommodates Vaxholm Fortress Museum. You reach it by a two minute cable ferry ride which departs every 15 minutes from may to september.
From Vaxholm the Stockholm archipelago lays at your feet.


Grinda, a beautiful island in the Stockholm archipelago
The Stockholm archipelago stretches from Björkö-Arholma in the north and Öja-Landsort in the south and includes just over 24,000 islands, islets and skerries. There are about 10,000 residents and 50,000 holiday homes in the archipelago.
The island of Grinda is easy to access with many daily boat trips and it is a popular tourist destinations in the archipelago due to its relative proximity to Stockholm, Vaxholm and ferry connections with the mainland are plenty.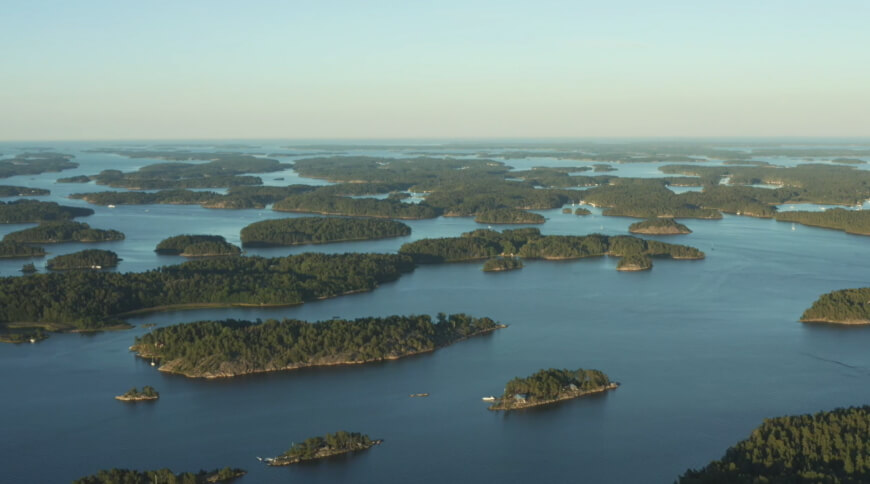 Magic and unique archipelago of Stockholm, perfect to start or end your motorhome vacation in Sweden.


The island offers a broad variety of activities for all ages and preferences. Rent kayaks to explore the island from the water. Or walk along the lingering trail through the woods and meadows. Play volleyball or football in the fields or visit with animals kept on the farm. Grinda is extra inviting for the swimmers and sunbathers along the many nice beaches and cliffs.
In addition to Wärdshuset restaurant, Grinda also offers a variety of accommodation. There is a hotel with 60 beds, a hostel, a holiday village and a campsite.
Travel to Grinda by ferry from Vaxholm (35 minutes) with Waxholmsbolaget or from Stockholm (60 minutes) with Strömma.
Drottningholm Palace - a unique royal place to visit in Stockholm
Do not miss out on the Drottningholm Palace when visiting Stockholm! The palace and gardens is a unique and unusually well preserved royal setting. It has been a royal setting since 1660 and was named Sweden's first UNESCO world heritage site in 1991.
It is still the home of the swedish royal family that openly shares their home surroundings with the public. Spend a day in the stunning area only a 15 minute drive from the city of Stockholm.
You can explore Drottningholm Palace by yourself, but a guided tour will ensure that your visit is particularly memorable. Guided tours are offered in english daily during the summer months. The palace offers guided tours.
Wander the Drottningholm Palace Park for a historic walk through different styles of park designs. A formal garden planned in the late 17th century. A more relaxed English-style park formed around a century later. And an intimate 1760s bosquets at the Chinese Pavilion. The lawns are spacious so bring a picnic blanket and have a rest between the guided tours.
The Drottningholm Court Theatre was built in 1766 and constructed of simple materials. The first golden age of the theatre was initiated by King Gustaf III in 1777. Up to his death in 1792, when the theatre was closed, the repertoire included Gluck's latest works, opéras comiques, French classical dramas and pantomime ballets.
The theatre stayed closed during 129 years (!) until 1921 when literary historian Agne Beijer rediscovered it, repaired what needed to be repaired, installed electricity and reopened it. The theatre has r5emained untouched to new technologies since and is a spectacular sight. Take a guided tour of the Drottningholm Slottsteater to experience the magic of the stage and see the splendid decorations come to life. Today the theatre offers new productions of 17th and 18th century operas.
Lovö nature reserve - hiking sights to see near Stockholm
The Drottningholm Palace is located in the middle of Lovö nature reserve. The area has a long history. The first traces of humans in the area are tracked as far back in time as to the stone age. Lovö has been inhabited since the bronze age.
With vibrant agricultural landscapes, preserved buildings, accessible beaches and contiguous forests, they form a unique area. An oasis for Stockholmers, only a hop and a skip from the inner city.
Today, there are about thirty known burial grounds on Lovön, most of which have their origins in the iron age. They are apparent signs of the fact that today's villages have been in the same place ever since.
Lovö nature reserve is very inviting to hikers of all experiences. There are many different trails in various lengths in the area, from a barefoot trail of 250 meters on Kärsön to the Antiquity trail that measures 18 kilometres.
Enjoy a hike to discover the landscape. Bring swimwear, lunch and snacks for a longer hike. There are eight fireplaces around the area where you can prepare lunch or just enjoy a fire. Firewood is usually placed by the fireplaces for your use.