Hire a campervan in Stockholm and go to Hälsingland to experience adventure and Swedish nature
Don't miss out on Hälsingland when you are travelling north through Sweden on your camping trip. With its undulating landscape, dense forests, rich wildlife, many lakes and rivers it offers a wide range of family activities and things to do with children of all ages. A perfect stop when you hire a motorhome in Stockholm.
From Stockholm, Hälsingland is only about 3 hours away. Go north on E4 towards Sundsvall. For the more scenic route leave E4 at Tönnebro and take road 83 towards Bollnäs and Ljusdal. If you prefer to continue on the highway, go as far as Hudiksvall on E4 and get off on road 84 towards Ljusdal. There are many sights to see on the way. These travel tips are focused on the area in the county of Ljusdal and the surroundings of Järvsö.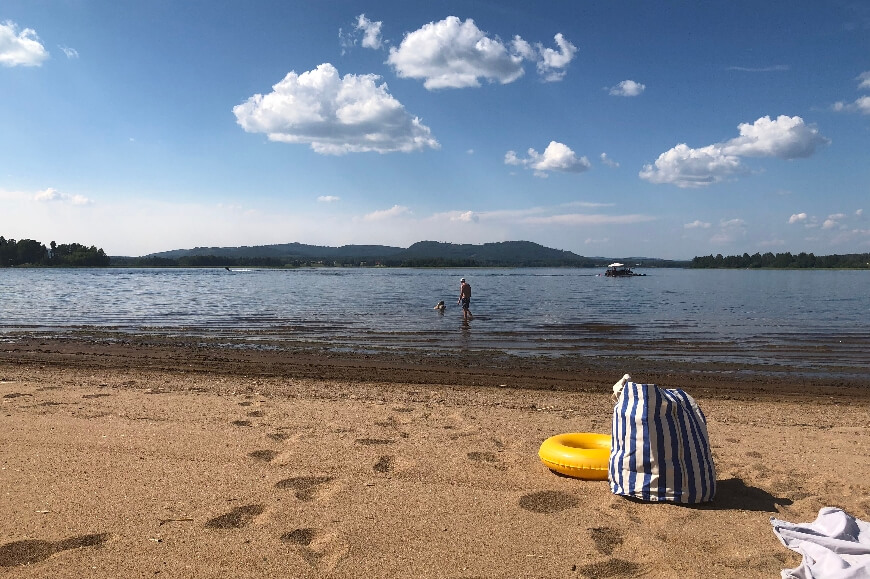 In Norrland it is easy to find a campsite at the lake side


Enjoy the Right Of Public Access
In Sweden you are welcome to enjoy the Right Of Public Access. It is rather unique! It gives us the freedom to roam just about anywhere in the countryside as long as we do not disturb or destroy. We owe to this right many of the opportunities for outdoor recreation that we enjoy in Sweden. With this right come responsibilities – to take care of nature and wildlife and to show consideration for landowners and for other people enjoying the countryside. The Swedish Environmental Protection Agency (EPA) sums up the Right of Public Access in the phrase 'Don't disturb – Don't destroy.


Campervan sites in Hälsingland
With the freedom of roam in mind, you are welcome to enjoy the swedish country side generously.
There are many campervan sites throughout Hälsingland. Use the included wifi in your Skanditrip RV to check out a suitable motorhome site to stop for a swim, a stretch, lunch, play or overnight stay.
There are a lot of beautiful spots to go swimming in Hälsingland. From the east coast beaches in the ocean near Söderhamn and Hudiksvall on your way to this region (when chosing E4 all the way to Hudiksvall), to small lakes where you might be all alone. Beautiful beaches, lakes and rivers.
The fantastic white beaches in Orbaden has given the area the name Hälsinglands riviera. Stop here for a swim or visit the spa to enjoy a bit of luxury on your campervan trip from Stockholm.
Ljusdals Camping is located on the lake Växnan where there is another fantastic beach called Norebadet.
In Färila there is a nature camping site right on the beautiful lake Skålvallssjön.
Ljusnan is a 443 km long river that runs all the way through Sweden. It is the 9th longest watercourse in Sweden and it offers many campervan sites throughout Hälsingland. As long as there is room to park the motorhome, stop anywhere to enjoy the river and its surroundings. Make sure you follow EPA's policy for motorhome driving in the region.




Nice camping route in Sweden: Stockholm - Ljusdal, Hälsingland


Adventurous family activities in Hälsingland
There is no way you will get bored in and around Järvsö. Below is a handful of family travel tips that will create memories that will last you for a lifetime.
Any adrenalin junkies in the family? Järvsö Bergcykelpark offers slopes for downhill mountain biking that suits all family members. Hire your equipment on site. If the kids in the family are new to the game the rental shop lets you borrow a bike and try it out in a small beginners slope. Since 2019 there is a beautiful pump track reachable from the downhill site that is open to anyone and suits all levels of bikers, from the three year old balance biker to the playful kick-biking grandmother.
Not quite your type of thing? Take a ride with the ski/bike lift to the top and enjoy the view. Bring a thermos of coffee and sit in silence for a while. Jump on the lift back down or hike your way down.
Want the family campervan vacation to stay in your memory for a long time? The adventure park in Orbaden offers zip and climp for all family members. Fly through the treetops and get another dose of adrenalin or zip your way between the trees at 2 meters above the ground.
For more adventurous activities with kids in the area, like river rafting, cave crawling and rock climbing check out the web site of Explore 61˚Nord.
Tired of the alcoven motorhome and want a rest from the RV for just one night? Järvzoo offers an amazing sleepover experience way beyond the ordinary. How about sleeping next door to wolves for a night?


Family activities with animals in Hälsingland
Learn a bit of Swedish farming history while meeting with the animals on the farm that uses the forest as a grazing place during the summer. Svedbovallen is tended by different farmers from year to year. Meet and greet with the animals, have and old fashioned Swedish fika (coffee break) and purchase the products produced by the farm. Suits children aged 6-15 years old.
Stenegård is another fantastic place to stop on the family vacation. The homesteads of Stenegård as it stands today were built in the 1860s and 70s but the area has been a place for farming and cultivation for thousands of years. Today it is a unique meeting place for crafts, gardening, culture and health. The kids will love the miniature farmhouses that can be visited all for free. It contains a theatre, a carpenter's workshop, painting atelier and a craft atelier where they (and their playful parents) can create something on their own. Lambs and rabbits are kept at The Children's Stenegård, which you may pet and feed. In the garden you can look at cultures, experiment in the garden lab and learn more about plants and growth. Suits children up to 12 years old.
Wild animals enjoy the dense forests of Hälsingland. If you haven't spotted any of the vast wildlife in the wilderness, be sure to get your dose of brown bear, wolverine, lynx, wolf, elk, reindeer and many more at the animal park Järvzoo. This outing is unique. You walk through the park on a three kilometer long wooden sidewalk where you experience the park at your own pace. You meet the wild animals of the Nordic countries on their own terms in a fantastic environment. Suits children aged 2-16 years old.


Hiking sights to see with the family
Järvsö klack is a mountain and a nature reserve about five kilometers northeast of the town of Järvsö. It reaches 390 meters above sea level and you can spot it from miles away in the area. It is a popular family activity in the region. A short hike ends with a spectacular view over the Ljusnan valley.
Björnbergstornet with its 24 meters is Sweden's highest fire tower. It reaches 400 metres above sea level and used to be a lookout for wildfires in the wilderness. The tower was built 1932. Today it is a well-visited lookout sight where you can overlook the spectacular dense forests of Hälsingland. The tower stands 25 kilometres from Järvsö.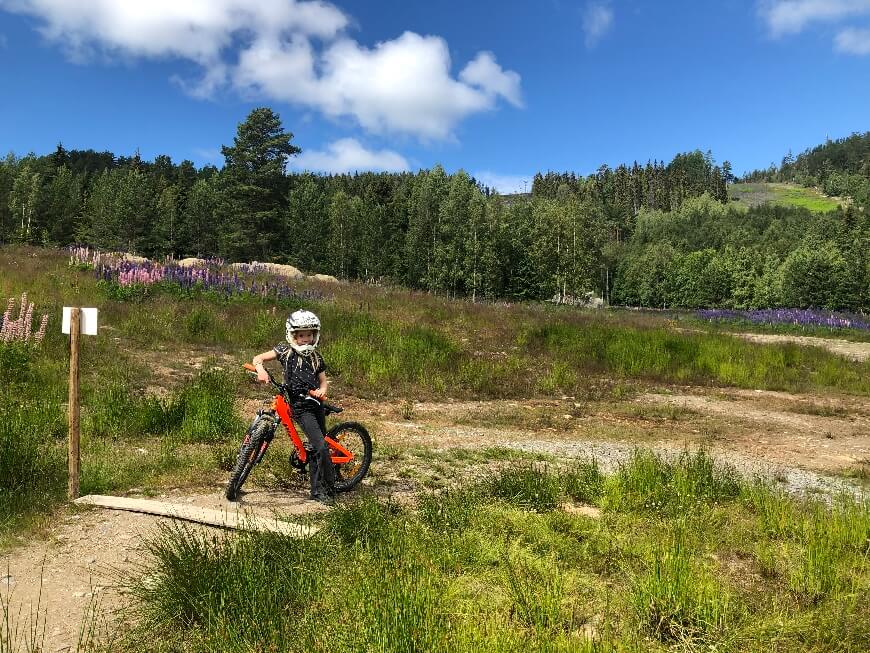 At Järvsö campsite there is a beautiful mountain view and plenty of actitives such as cross biking.


Take the family on a longer and more advanced outing on the 11,2 km long Järvmilen trail. The hike starts and ends at the foot of Järvsö ski slopes. The view is spectacular at some points. Note that hikers, bikers, riders and runners all share the trail.
There are a lot of hiking trails in the area to choose from.


Fancy a meal outside of the campervan?
Eventhough the Skanditrip motorhome kitchen is well equipped you might want to taste a bit of the Hälsingland-cousine while in the area. It offers flavors and scents from earth, forests, sea and lake. Specialties in the region are plenty but food made from milk has played a large role in the area, as has the farming culture.
The Hälsinge-cheesecake has a central place, the recipe of which differs depending on where in Hälsingland you go. Don't miss out on the cheesecake, the flatbread, the local fishery, the variation of the faithful old servant – the potato. Or the fruit and meats of the forests. The traditional food is well prepared and home cooked.
There are plenty of restaurants well worth a visit in Hälsingland, many of which pays great attention to local and organic produce. Go to Växbo Krog for a spectacular outdoor setting and well composed mouthwatering local menu. Go to Järvsö Crêperie for Galettes and Crêpes sent from heaven. Go to Järvsö Lanthandel for fantastic food with a creative touch. Go to Brödbutiken Järvsö for a typical Swedish cinnamon bun to die for. Go to Järvsöbaden for the traditional Swedish home cooked meal. Go to La Banca for divine art of Italian cousine. Go to En liten sjökrog when taking the non scenic route back to Stockholm for a memorable food thrill where all quests are treated with front row sea view.
More things to do on your family vacation when you hire a campervan in Stockholm
Visit the spectacular decorated farmhouses of Hälsingland. Go horseback riding in the woods. Book a dressage and take the family cycling the old train tracks of Dellenbanan. Go fishing!
Again, there is no way you will be bored when visiting Hälsingland!